The 8 Best Fishing Poles Of 2022
Fishing does not depend on luck. Though there is no guarantee that you will have a catch always, there are many factors that can increase the probability of catching the fish. While arranging for your fishing trip, you need to get hold of the most suitable fishing pole for yourself. The fishing pole depends on the variety of fish you want to catch and your skills. But apart from these, there are some other technical aspects of a fishing rod:
Length: It is the length of the rod. That means how long the rod is.
Action: This is how much the rod bends in the pull of a fish when you try to pull it out. When the fish is on the line and the curve it forms while pulling it upwards.
Power of the Rod: It is the strength of the rod to hold the line weight. Depending on the fish, you need different rods to fish. This has to be decided totally in comparison with the target fish.
Here we head out 8 best budget fishing poles for beginners when buying fishing poles:
The best feature of this fishing rod is that beginners and experts can use it with comfort. It is a medium-heavy sleek fishing rod emitting the rays of modern anglers. Ugly Stik GX2 has a sensitive rod compatible with catching any fish. Different lengths are available for the anglers to choose from as per requirement. This one-piece is constructed with fibreglass and graphite. It gives you a strong grip on the EVA handle. Its strong and durable body design is a good option for both beginners and pro-anglers. It is a versatile fishing rod with an 8-20 pounds line weight.
This rod is a good choice if you are searching for lightweight rods made of graphite. The added feature to this fishing rod is the cork handle which gives a better grip and also keeps your hands comfortable at the same time. The guides of Shakespeare Micro Spinning Rod are stainless steel, making them more durable. The line weight of this model is 4-10 pounds, while the ultra-light ones are 2-6 pounds. There are different sizes available for this product, which are mentioned below category wise:
For the ultra-light models
4 feet 6 inches
5 feet 7 inches
7 feet 6 inches
For the light models
5 feet 6 inches
6 feet 6 inches
7 feet
All the sizes are constructed with two pieces except the 4 feet 6 inches model.
This is the best budget fishing pole, made mainly for beginner anglers and pocket-friendly. The components available in Plusinno Spin Rod and Reel Combo are:
A rod
A reel
Six lures
Six hooks
Four Sinkers
And accessories
It is a telescopic pole that is very comfortable due to its flexible nature and EVA grip. Made of fiberglass and carbon, this rod is medium-powered and is durable in the long run.
This is specifically designed for traveling anglers; hence it is compact and lightweight. It has a mini-reel with one ball bearing and a feature of reducing line twists. It has a hard-shell case where it fits in by breaking down into five pieces. It also has added built-in tackle compartments. The compact case measures 14 x 8 x 3 inches, weighing less than 1 pound. Its line weight is 2-6 pounds, suitable for fishes like trout.
Denali Rods Attax Heavy-Spinning Fishing Pole (Best Bass)
Made with high-class technology and solid construction, the Denali Attax Heavy-Spinning Rod is for expert anglers who want to get the best bass. The rod has an extra cushion for comfort. The graphite inlay provides strength to the rod. IT is also very lightweight and sensitive. The rod is available in many sizes, like 6ft 8in and 7ft 10in. IT can hold lines from the weight range of 15 pounds to 25 pounds.
Kastking Centron Spinning Reel(Best For Catfish)
The KastKing Centron Spinning Reel is specifically designed to help catch catfishes and larger catches. IT is extremely durable due to the Toray IM6 graphite pole. It also has excellent lifting power and has a recommended line weight of 15 to 30 pounds. It has stainless steel double foot guides that help withstand thrashing and beating from a flailing fish. These reinforced nylon reel steels hold the reel in perfect position. It has cross-wrapped EVA handles to avoid slipping poles from wet hands. This keeps the rod tight even in slippery conditions and does not strain the hand muscles. This rod comes with a warranty and is excellent for freshwater and saltwater fishing.
Redington Crosswater Outfit (Best For Fly Fishing)
Fly fishing generally leaves fishers with blisters on their hands and this rod is here to save your day. This rod has a cork handle that provides comfort and accuracy. It has a strong graphite pole that makes it durable and lightweight. It has an assembly system, which means you can open it into four pieces and assemble it again. It has a carrying case. Thus it is easy to carry and small in size. It is perfect for long casts. This rod is available in four weight options: four, five (best for trout), nine, eight (best for salmon, bonefish, or large rainbow trout).
Eagle Claw Pack-It Telescopic Spinning Rod (Best Telescoping)
The Eagle Claw is the best freshwater fishing pole for a trail or when out camping. This compact fishing rod is 5ft 6inch in length. The rod is made from fiberglass, which makes it more durable. It is also safe to use in various conditions. It is foldable to make it easy to carry and has a handle made out of EVA. This is the best option for bass or freshwater fishing and can take line weights between 4 pounds to 10 pounds.
Last update on 2022-12-06 / Affiliate links / Images from Amazon Product Advertising API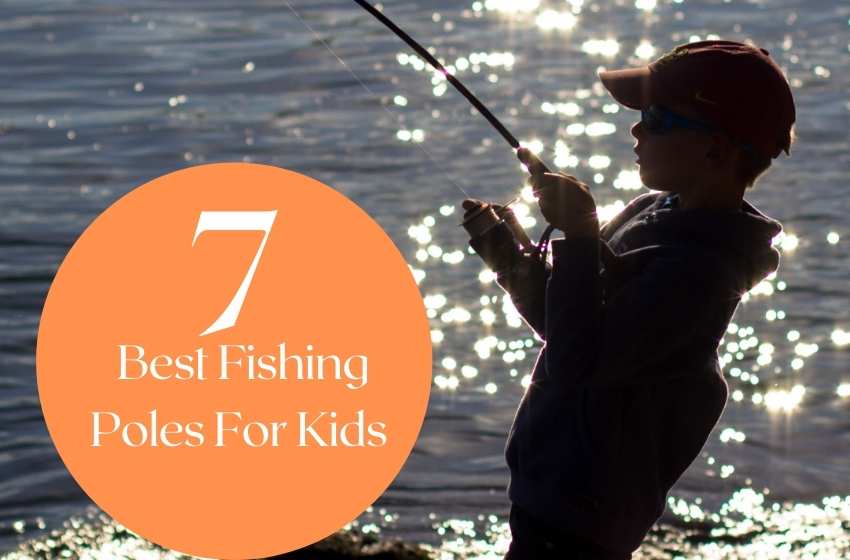 This is the most popular option on Amazon, the PLUSINNO Kids Fishing Pole Combo, and contains almost everything you will need for your young one to learn about fishing.
Read more